Back in February I wrote about as3sfxr-b, a free sound effect generator written in AS3. Increpare, the editor's author, has recently updated to a version dubbed Bfxr, which extends the already fantastic AS3-based sfx generator.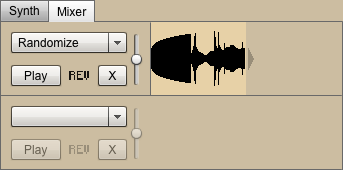 The biggest addition in this version is the inclusion of a mixer. That's right, you can now create sfx with this editor and then mix several tracks together to create a much more complex, layered sfx. You don't even have to leave the browser. All these years I've been using audio editing tools like a sucker. OK, ok… you can't completely abandon your audio tools, but it is an extremely handy feature.
He's also added some additional waveforms, filters and some other fun features. But your head is still spinning from the news about the mixer, I know. So I'll give you a moment.
Good?
Go check out Bfxr now.